Are you creating a nest for a new arrival and perhaps have chosen to not know the gender of the baby till birth? Or are you expecting multiples of different genders? Maybe you are not particularly interested in the traditional colors. Then gender neutral nursery wallpapers are a great idea for your nursery room. In the world of today, a lot of families believe that gender neutrality is key. Therefore, décor ideas and designs are also considered when creating gender neutral spaces. The following are tips that you can use and apply when selecting gender neutral nursery wallpaper for your little one.
Furthermore, it leaves no residue stains behind. Check out the below options for more information!
1. Animal stamp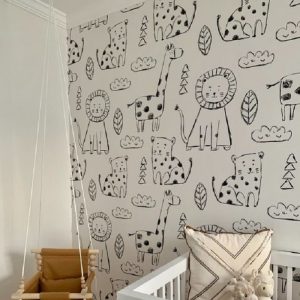 Animals are a great part of your child's bedtime stories, stuffed toys and even television shows. Whether boy or girl, a child will always be drawn to animals or toys that look like animals. This is why animal prints and stamps are perfect for a gender neutral wallpaper. In case your child prefers a specific animal at any one time, try peel and stick wallpaper which you can easily change whenever their preferences shift. Animals on the wallpaper add to your child's imagination as well since they see them as real beings.
Read more: Best Peel and Stick Wallpaper Design Ideas for your Nursery Room
2. Angled patterns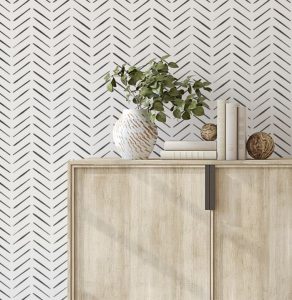 Since you and your spouse or parenting partner are likely to spend a significant amount of time in the nursery room, you can opt to select a pattern that fits your grown-up taste as well. You are free to choose a soothing and calming pattern such as the above that is gender neutral and even age neutral. Not all wallpaper for nursery rooms have to be just themes that target children's attention. Experiment with other neutral color schemes to match your décor as well.
3. Tribal patterns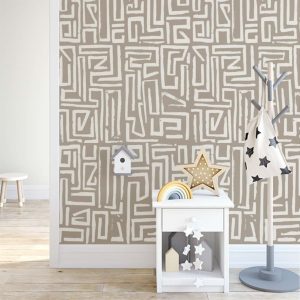 Tribal patterns have always been in vogue. Especially when toned down in light colors, they form perfect gender neutral wallpaper ideas for your little ones. In fact, they are likely to continue to be relevant long after your child has grown. They invoke style and creativity while still being easy on the eyes of your little ones. There are endless possibilities of patterns and color schemes to choose from when it comes to tribal themes as well.
4. Horizontal sketch lines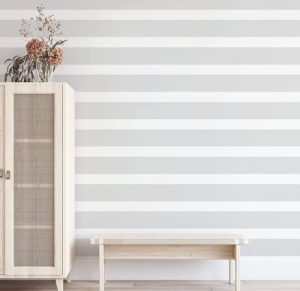 Horizontal lines and vertical lines are one way of being neutral and minimalist without being plain and bland. For variety, select line patterns that vary in thickness and spacing, or even ones that have different colors for uniqueness. They are unique, chic and form great backgrounds for whatever else you may want to hang on the featured wall. Horizontal lines are also known to elongate a space in case your nursery room currently feels congested.
5. Dotted wallpaper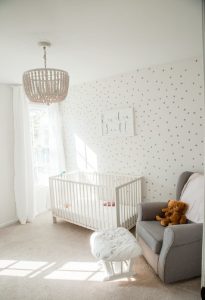 Dots are a perfect way to add a gender neutral background. Peel and stick wallpapers come in various forms of dots, including polka dots, Dalmatian dots and different sizes and shapes of dots as well. They are known to invoke playfulness, a sense of motion, and a feeling of infinite space and possibilities. In reverse color schemes to the one above, they can appear like a starry night, which is a theme that has often been used in nursery rooms.
6. Cars on the wall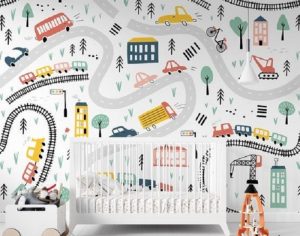 Cars, trucks, trains, and other moving machines do not have to be associated with just the boy child. Girls are also increasingly becoming interested in these toys and as such, cars are a good idea for a nursery room wallpaper. Kids often imagine themselves driving these machines and therefore this wallpaper is likely to inspire their fantasies and future dreams. What's more, try different colors and sizes to help your child learn the different uses of cars, trucks, trains, and machines.
7. Kitty wallpaper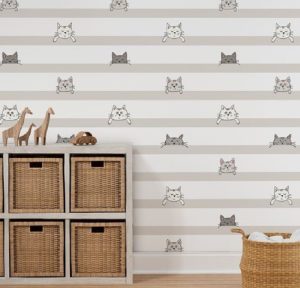 Suppose you already have a pet in your house, why not use it to influence your nursery wallpaper? If you own a cat, you can opt for wallpaper that has cats on it. This is a gender neutral approach when it comes to wall décor. Your child who is likely to already be familiar with the pet will appreciate the wallpaper that reminds him or her of the animal that they are fond of. Abstracted animal murals are also a great idea when choosing a wallpaper to have a more simplified version of the animal.
8. Starry sky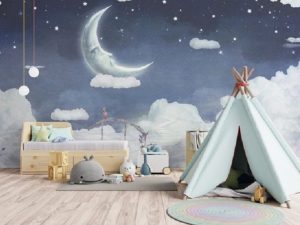 Starry skies have been a staple design when it comes to nursery room walls and ceilings. This is because they are in line with the primary function of a nursery room, which is to create a soothing and serene environment for your little one to easily slip into slumber land. Skies are universal and are therefore gender neutral. You can opt for lighter pastel or watercolor backgrounds to avoid the dark and dull feel of a night sky.
9. Abstract mountain ranges
Mountains, trees, and other aspects of nature are great for nursery rooms because they represent the relaxing, healthy and well-being character of nature. They have therefore been used in designs of peel and stick wallpaper to bring this serenity to nursery rooms. The versatility of wallpaper is that you can select the scale and color schemes of the mountain ranges to fit your taste, like the example above. Other features like the sky and bright sun can also be included to add to the variety of the wallpaper.
10. Cartoon playtime pastel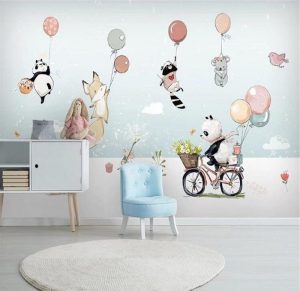 Cartoons play a significant role in your little one's development process. They inspire creativity, imagination and fantasy. Your child is likely to start recognizing items around them as they see them around the nursery room. Consider various cartoon characters in different scenes when settling on the design of your nursery room wallpaper. What's more, most cartoon characters are gender neutral. Also, peel and stick wallpaper will allow you to upgrade your wallpaper as your child's preferences change from one cartoon to another.
11. Favorite cartoon show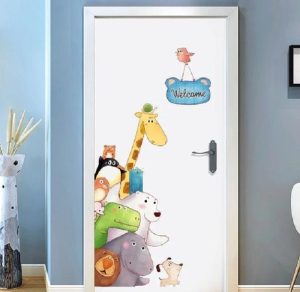 Some of the most common designs when it comes to kids' furniture, clothes, bags, and even wallpaper are cartoons. If your child is into a particular cartoon show, consider wallpaper that has each of that show's characters displayed on it. It will invoke your child's memory and imagination long after the television has been switched off. Moreover, your child will feel a sense of belonging since his or her favorite cartoons are right there in the nursery with them.
12. Minimalist mountain ranges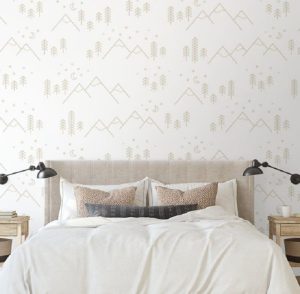 Mountain ranges as part of nature give a serene beyond-the-horizon feel when used in the design. They represent larger-than-life opportunities and endless possibilities. Hence why they are commonly used as wallpaper patterns. When looking for gender neutral patterns for your nursery room wallpaper ideas, mountain ranges are a serene option. Furthermore, they mostly come in earth tones and with additional features in nature like trees which represent tranquillity, peace, and relaxation.
13. Puppy dog stamps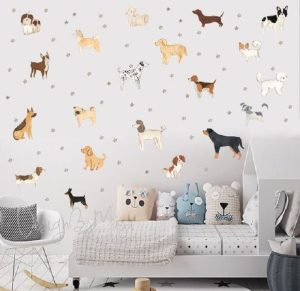 Suppose you already have a dog as a pet, then a dog pattern is perfect as a gender neutral wallpaper. Your nursery wall will be a great constant reminder of this precious companion that both you and your little one are fond of. The dog pattern can come in various sizes to your preference. You can also have the option of full color or just black and white like the above example. Whichever way, this is a great way to incorporate a loved pet into the design of your nursery room.
14. Summer sunset hues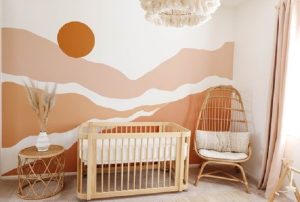 Sunset is often associated with winding down and relaxation after a long, productive day. It is a symbol of accomplishment and nature's way of refreshing as the day ends, in preparation for a new one. The colors and hues displayed in the sky at sunset are breath-taking. Why not incorporate this into your gender neutral wallpaper design? It is truly a combination of soothing colors that are perfect to set the mood for your little one to slip off into sleep.
15. Simple check pattern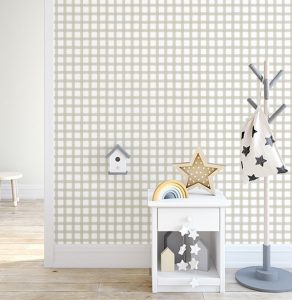 If you would prefer not to be too experimental with animals, nature or similar abstracted patterns, then plain lines are also a unique option. Both horizontal and vertical lines can create a sophisticated, minimalist pattern that you can easily use as a design for your gender neutral wallpaper. For a little bit of variety, consider different lengths and widths of lines and spaces for creativity's sake so as not to end up with a boring checked wall. You can also add a pop of color here and there.
Conclusion
There are many fantastic options available for gender neutral approaches when it comes to nursery room wallpaper design. Feel free to choose any of these and customize it to your style for the perfect wall finishes for your nursery room!
FAQ
Is wallpaper safe for the nursery?
Yes, they are completely safe from toxins and hazards as a wall finish. They are also easy to change whenever they get to wear and tear due to touch or abrasion from your little one.