Are you considering wallpaper for your nursery room and are stuck on where to start? Try peel and stick wallpaper. It is considered temporary or, rather removable wallpaper. Since its big debut in the décor scene over a decade ago, it has been a great go-to wall finish for homes. The before-and-after pictures all over the internet are a great testament to how good of an alternative peel and stick wallpapers are. This article will help you select the best peel and stick wallpaper for your nursery room. Furthermore, it will give you tips on whether you can use it or not, how long you can use it, and different types of peel and stick wallpaper for boys and girls and those that are gender neutral.
1. Pastel Floral Mural Wallpaper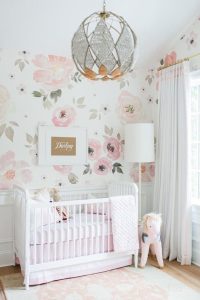 Pale pastel colors are great for your nursery room. If you are trying to create a soft, colorful theme that draws from nature, a pastel floral mural is the best peel and stick wallpaper for you. If you would prefer to create a space you're your girl's nursery room, pastel shades of pink and peach are a great choice. For your boy's nursery room, try light shades of blue and blue green. Still, you have a chance to keep the wallpaper colors neutral through pastel colors of earth tones, greens, and creamy whites
2. Forest Animals Wallpaper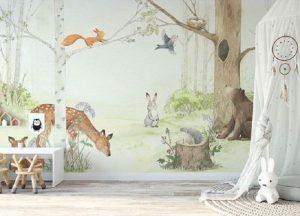 The advantage of using peel and stick wallpaper for your nursery room is getting to have detailed artwork on your walls. From animals in the jungle to domesticated cats and dogs, you can literally choose a wallpaper that has any animal in the animal kingdom. Your tastes and preferences will appreciate the natural feel they create as well as the calming sensations one gets from nature. You can even have a mural of a cat or dog that you already have at home to create a wall finish that your child is familiar with.
3. Hot Air Balloon In The Sky Peel and Stick Wallpaper For Neutral Nursery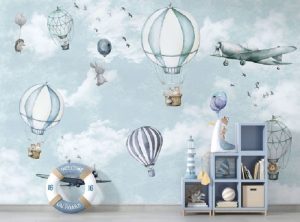 A lot of children's story books and cartoons feature props like hot air balloons and planes in the sky. Your child is likely to recognize these props whenever he sees them anywhere else. This is why a hot air balloon in the sky is a great peel and stick wallpaper idea, especially for a neutral nursery room. This kind of imagery stirs the imagination of flying and reaching the skies and beyond. Hence, this is great for developing your little one's brain.
4. Ocean-Deep Mural Wallpaper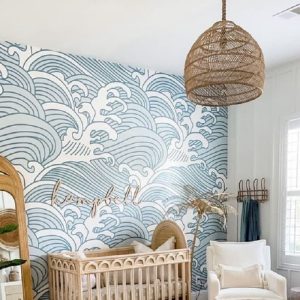 Waves are one of the most popular patterns in design that create the illusion of calm motion. Even in real life, soft ocean waves are considered to be therapeautic and serene. What a great design for your peel and stick wallpaper for your little one's neutral nursery room! In grey scale, it is very light and easy on the eye as well while delivering that calm motion effect that you are looking for. This effect is ideal for rocking your little one to sleep.
5. Dalmatian Dots Wallpaper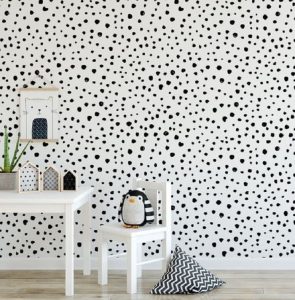 Dalmatian spots are unique phenomena in nature. They are very distinct from polka dots. Their irregular shapes, sizes, and spacing make it such an exciting pattern to work with in design. This is why they are a great idea for a peel and stick wallpaper design for your nursery room. This unique pattern depicts style and class, especially with its black-and-white color scheme. It is an even better option for a peel and stick wallpaper if you own a Dalmatian as a pet!
6. Watercolor Floral Peel And Stick Wallpaper For Nursery Girl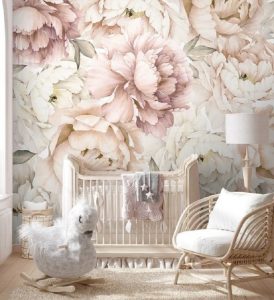 Light and pale colors are often recommended for nursery rooms. Watercolor artwork delivers this exceptionally. Especially for girl nursery rooms, watercolor floral peel And stick wallpapers are a great pick. From roses to sunflowers to even just plant foliage, there are endless possibilities to experiment with the patterns from nature. For color, you can choose other non-conventional colors for floral patterns, such as grey scale or monochrome color schemes.
7. Mountain ranges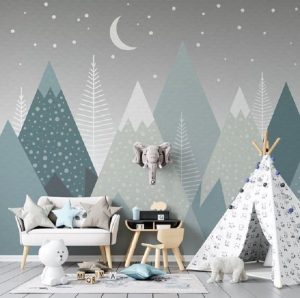 The great outdoors are a neutral pick for your peel and stick wallpaper in your nursery room. The undulating waves in nature as well as other props such as hot air balloons, the sun, sky, and clouds, create an exciting wall mural that will spice up your nursery room. They often come in great earth-tone colors but can also adopt other color shades of your choice. Including artwork resembling nature in your nursery room, even if abstract, is always a great move towards a soothing, serene space.
8. Animal wallpaper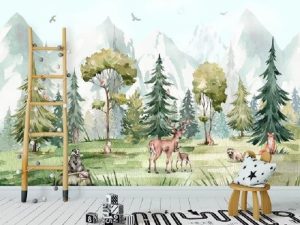 Speaking of nature, pictures or sketches of wild animals form a great idea of peel and stick wallpaper for your nursery room. These animals are already featured in some of your child's story books and cartoon shows. Therefore, your child is likely to recognize them and feel like they are in the room with them. This is useful for your child's developmental process. If your child is particularly drawn to certain animals, such as a stuffed bear, then consider a bear as a design for your peel and stick wallpaper.
9. Foggy mountain ranges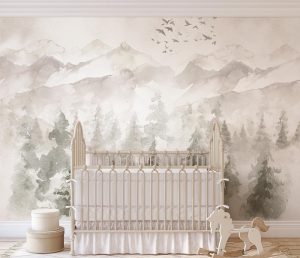 Nature seems to be the order of the day when it comes to the creation of a soft, soothing, and serene dreamland sanctuary. This is particularly key for your little one's nursery room. Mountain ranges create a dreamy feel, mimicking the vast expansiveness of nature. Borrow these traits of nature when deciding on your wallpaper. The earth tones will calm your little ones down as they settle to sleep. Also, foggy mountain ranges that create a light and pale color scheme of nature work well too.
10. Rainbow pattern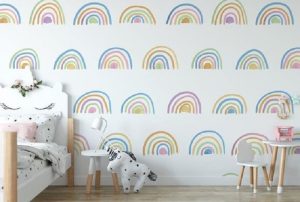 Rainbows have always been a part of children's fantasies and feature a lot in books and shows for children. This is a perfect stamp pattern to include in the peel and stick wallpaper for your child's nursery room. To create this fantasy look, you can experiment with wallpaper that has rainbows and other patterns of different sizes. Also, try different backgrounds that are light and toned down so that the colors of the rainbow are visible to your child.
11. Tree House  Peel and Stick Wallpaper For Neutral Nursery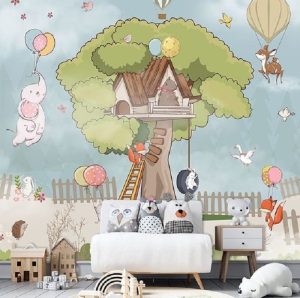 Another stable in children's fantasy stories is tree houses. Add to your child's creativity and imagination by choosing treehouses as a design for peel and stick wallpaper. This stirs their memory on what they have already read in their story books or cartoon shows. It is also a snippet of nature, particularly the jungle that has a sense of healing, well-being, and serenity. It is also gender neutral so it can be great for a boy or girl nursery room. Watercolor paintings of tree houses are fantastic wallpaper options!
12. Unicorn Stamp Peel and Stick Wallpaper For Neutral Nursery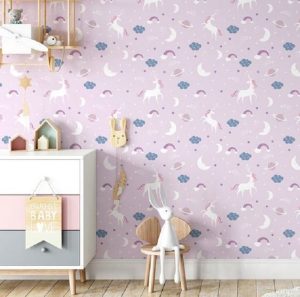 Children often believe what they read or watch in media made for children, including unicorns! Try a fantasy unicorn stamp pattern as an alternative to the animal kingdom wallpaper patterns. While most media showing unicorns are usually bright and multicolored, you can opt for a monochrome alternative that is light and pale, perfect for a nursery room color scheme. This example is well toned-down and neutral for both a girl and boy child.
13. Bunny train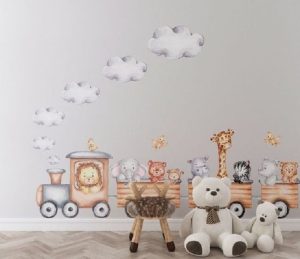 Bunnies are one of the most common stuffed animals when it comes to children's toys. Your child is likely to be already familiar with a bunny toy. Why not experiment with a bunny train as a peel and stick wallpaper for your nursery room? Most come in soft, lively, and soothing colors that are easy on your little one's eyes. This example with a bunny and other animals in a train is also fun and imaginative and can stir further creativity in your child's developing mind.
14. Pink sky slumber land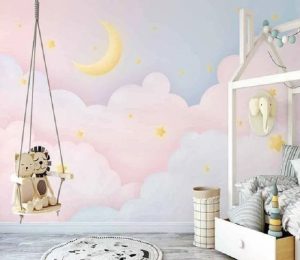 In line with the general purpose of sleeping in your child's nursery room, a sky mural is a splendid art form. This is another practical peel and stick wallpaper idea for your nursery room. The versatility of these kinds of wallpaper is that you do not have to fear being stuck with a dark and dull color scheme just to have a nighttime theme. You can still have light, bright colors and other props, such as the moon and stars, to create the theme. The possibilities are endless when it comes to cloud patterns as well.
15. Dream castle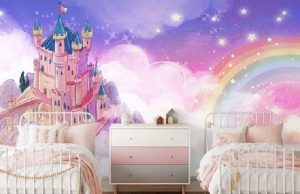 Complement your child's creativity and imagination by applying peel and stick wallpaper that contributes to their fantasy stories. Is your child's preferred bed-time story about a princess in a castle? Then a castle mural on wallpaper is perfect for you. Other parts adding to the wallpaper's imagination and creativity are the trees in nature and the rainbow. These are familiar items in children's stories. Therefore, they can form suitable artwork for a nursery room's wallpaper.
Conclusion
Peel and stick wallpaper for a nursery room is a splendid and versatile idea if you are looking for ways to decorate your space. The advantage is that it is temporary, giving you the option of choosing several designs and changing them over whenever you need to Try any of these ideas to help you select the best wallpaper for your girl, boy, or neutral nursery room.
Frequently asked questions
Can you use peel and stick wallpaper in a nursery?
Most definitely! They are safe, easy to clean, and replace in case you would like to try a different one.
How long will peel and stick wallpaper last?
Most peel and stick wallpapers last up to 5 years so long as they are not exposed to moisture. Other factors that affect its longevity include the cleanliness and texture of the wall, correct application, and normal wear and tear from touch or abrasion.
Is peel and stick wallpaper damaging to walls?
Absolutely not. They are meant to be temporary and replaceable. Therefore, do not be afraid about having to restore your home's walls in case you live in a rental.
Does peel and stick wallpaper fall?
Yes, it does when exposed to moisture. This can also happen due to incorrect installation or uneven texture of the wall of the application.