Stars and strikes are widely popular for offering a friendly, cozy, and fun atmosphere where friends and families can enjoy themselves. There are numerous attractions like arcade games, bumper cars, laser tag, restaurants, bars, art bowling lanes, etc.
What party packages are provided by stars and strikes?
People opt for party packages to enjoy a kid's party at the bowling alley. These packages are designed to spend time enjoying instead of planning for the parties. Party packages let guests enjoy different activities and have a great experience. Parties held in the entertainment centers come with particular time out on bowling lanes and activities such as game cards, food, equipment, and party supplies. Food, arcade cards, and play sessions are key factors of party packages. It includes packages like-
Birthday party package
Teen dream package
Adult party package etc.
How do arcade birthday parties at stars and strikes prove to be the best?
Arcades are becoming more exciting with each passing day, and hosting arcade birthday parties proves to be the best party idea as you get ample additional facilities.
1. Friendly competition
One unique social activity is to play arcade games with people to show a fun and competitive side of yours. You get multiple gaming options ranging from dancing to racing to aiming. Friendly competition is a good thing, and hosting arcade birthday parties is just one example of it.
2. Play and food at one place
You get dining options if you need a break from gaming activities. At arcades, you can enjoy various food, starting from pizza drinks to the full menu option. This eliminates the need to drive back and forth.
3. Assistance from staff
If you plan to host birthday parties at arcades, you get birthday packages where you have staff assistance to do all decorations, supply guests, and get the cake ready for you. This makes your work easy and takes your stress to make all arrangements alone.
What more can you get from stars and strikes?
1. Holiday party
People can enjoy themselves on new year's eve and make their holidays special. Suppose you want to experience something special in your holidays. In that case, you can book holiday party packages from stars and strikes, where you can enjoy unlimited hours of bumper cars, virtual reality, video gameplay, and laser tag.
2. Bowling alleys
You can host lock-in events at bowling alleys. They are the perfect place to keep you engaged and have fun. It includes all-night events where people are under the legal drinking age. They are family entertainment centers where people enjoy unlimited hours of the game and other activities.
How do people, including kids, enjoy stars and strikes?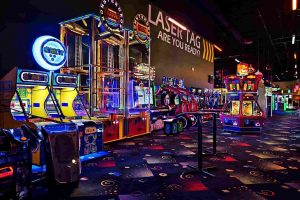 Kids enjoy the games, music, and food served at bowling alleys of stars and strikes. They also enjoy bowling alley lock-ins. There are trained party coordinators who ensure that the doors are locked and no one comes out or goes in during the lock-in. People, including children, enjoy all night adventures provided at bowling alleys. People used to enjoy traditional ways through video games and arcades. Hosting birthday parties brings a sense of nostalgia for both the family and the birthday child. They have endless entertainment, from bumper cars to bowling, laser tag, and great food and drinks options.
If you want to host parties, check out stars and strikes. Herewith us, you get the best deals and a perfect place to book a package of your choice and host parties where you get access to unlimited entertainment in the form of bowling lock-in alleys, bumper cars, arcade games, laser tag, etc.
Authored by Shalini